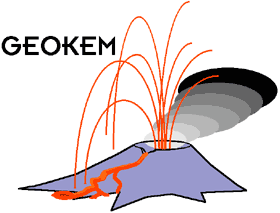 An eText of Geochemical Data Interpretation
"The only thing more expensive
than education - is ignorance"
- Ben Franklin
Most recently updated pages:
Geokem
General:
Oceanic Ridge Basalts (ORBs):
Oceanic Island Basalts (OIBs) & Alkaline Series:
Continental Flood Basalts:

Gondwana Jurassic Flood Basalts and Sills. Ferrar Dolerites (Ant), Tasmanian Dolerites, Karoo, Etendeka, Parana, Deccan
Columbia River, Steens Mtn, Snake River Plains, Basin & Range, Palisades Sill, British Tertiary, N.Atlantic-E.Greenland

Orogenic Andesites:
Special Chemical Types:
Extraterrestrial geochemistry:
We recommend using the above menu, but search this site if you must.
---
This site is aimed at helping graduate research workers with geochemical problems.
Description of this Geochemistry Website
Here we give very brief descriptions of most types of terrestrial and lunar igneous rocks, their regional distribution and classification, and examples of their geochemical trends and "fingerprints".
Clicking on the minature "thumbprints" will allow the diagrams to be shown at a larger size. Enough examples are shown for any new data to be typed.
To return to text when viewing diagrams click on your browser's "Back" button.
Further information, variation diagrams etc can be requested by e-mail.
The reference given at the base of each diagram is that of the producer of the (usually) published data. The diagrams are mainly original, few have been previously published. A good deal of liberty has also been taken in the interpretation of the data so that the whole web page is coherent. Space does not permit detailed discussion of pros and cons. We are adding some published abstracts to each data series and this is helped by authors sending us .pdf files of their papers.
---
Created 1998-2006 by Dr B.M.Gunn