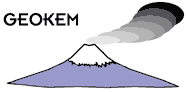 Orogenic Andesites
(Part III)
Okmok with snow blowing off the cindercone inside the large caldera. Photo: USGS

Shishaldin Aleutian Arc
Photo: USGS


Augustin Aleutian Arc
Photo: USGS

Batur I, II, III from right, (on Bali, 1996). Adventitious cones inside caldera with caldera lake below right.
1917 flow in foreground, 1973 flow from Batur IV in left distance.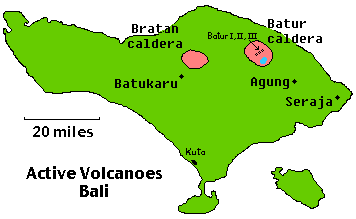 Gunung Agung (10,300ft) is the dominant volcano in eastern Bali. It began its last eruption 18-Feb-1963, and on 17-Mar-1963 the top 300ft was blown off. Between one and two thousand people died and much of the agricultural land at the foot of the volcano was destroyed.
No data available.

Solomon Islands
The Solomon Island lie a thousand mile NE of Queensland and form a double chain of islands extending from Bouganville in the NW, near New Britain, down to San Cristobal 800 miles to the SE. Altogether there are 990 islands, many are mere atolls, but the total area is reported as being 28,000 sq miles. A little over 200 miles to the north is the atoll of Ontong Java resting on a large submarine lava plateau which has been focus of several investigations. The edge of this submarine plateau appears to surface on Malaita and Sta Isabel. These rocks are tholeiitic basalts of NMORB to EMORB compositions and rather altered, (Tejaba, M1996, J.Pet.37) though the same author produced better data of NMORB's later, (Tejaba et al, 2002, J.Pet.43.
Large andesitic volcanoes are found on Bouganville especially, (site of the controversial Bouganville Copper mine) but no detailed study seems to have been done on any single centre. Rocks range from andesites, diorites, granites, lherzolites (Malaita), alkali basalts and picrites.
The main islands of Choiseul and Sta Isabel to the NE and the New Georgia Group to the SW enclose the famous "Slot" leading to Guadalcanal and "Iron Bottom Sound", soaked in more desperate history than perhaps any other area of the Pacific.
We have not yet found any summary of the geology of this group, nor visited. Any contributions from readers would be welcome.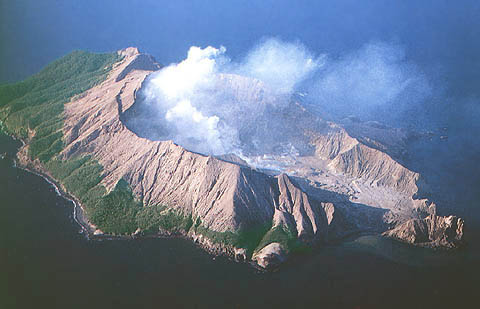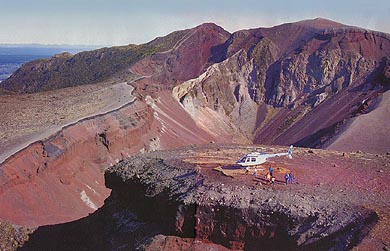 Mt Tarawera, a rifted rhyolite dome which erupted basaltic scoria in 1886, covering the surrounding country in several feet of ash.
| | |
| --- | --- |
| | Fingerprint for Mt Ruapehu active cone. Unlike a few more symetrical cones such as Mayon and Fuji, Ruapehu is an indescribably ugly heap of rubble with block, ash and lahar interspersed with thick short andesite flows. Having been decapitated with 3-5000ft of it's summit blown off, Ruaphehu is no beauty. It can also have the foulest of weather with 50-70 knot westerlies screaming round it's isolated slopes with snow and sleet that drive through any garment made by man. Data is mainly from Waight etal, 1999, (NZJG&G 42, 513-532) |
| | The three active centres in Tongariro National Park have surprisingly minimal data with no REE at all for Mt Ngauruhoe the most active centre. From what there is, the compositions appear to be relatively constant, the dominant magma type being orthopyroxene basalts and andesites. Soda is fairly constant at K2O x 2, but in the rhyolite ignimbrites of the area, K can exceed soda. |
| | Zr vs alkaline earth elements. Though it appears erratic, the Sr is effectively constant as is normally is in andesite series while Ba (along with K, Rb, Th, U) increases with silica. |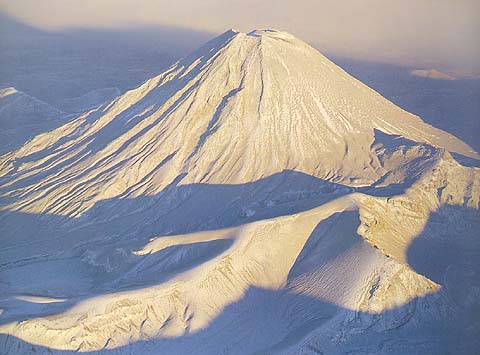 Ngauruhoe is New Zealand's most active volcano erupting every 15-20 years, though the last eruption was 1978. Here here covered in yellowish ash from the 1994 eruption of Ruapehu ten miles distant. The white coating is a light skiff of snow. Ngauruhoe is in fact mainly basaltic andesite.
Photo: Craig Potton
Copyright © 1998-2006 Dr B.M.Gunn